Sunday, August 23, 2009 at 11:49AM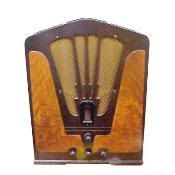 The Detroit Tigers must be in a pennant race, because I've been invited back onto the radio. I'll be a guest on "The Benchwarmers" tonight from Toledo's WSPD 1370-AM. The show starts at 6 p.m. EST; I'm scheduled to call in around 7 p.m.
Last time I appeared on the show was during Spring Training, and we wondered just what kind of team the Tigers would have this year. Now, we have a pretty good idea that this should be a playoff team, with a very meaningful last six weeks of the season to be played.
You can listen to a live stream of the show at the WSPD website. Again, I'll be on around 7 p.m. EST, but the show begins at 6 p.m. I don't know if they'll be taking calls during my segment, but the phone numbers and e-mail address are listed on the show page, so I'm hoping you can chime in.
tagged
Bless You Boys,
Detroit Tigers,
radio